Physics Inspiring the Next Generation: Exploring the Cosmos!
PING Camp 2021: June 25th – July 3rd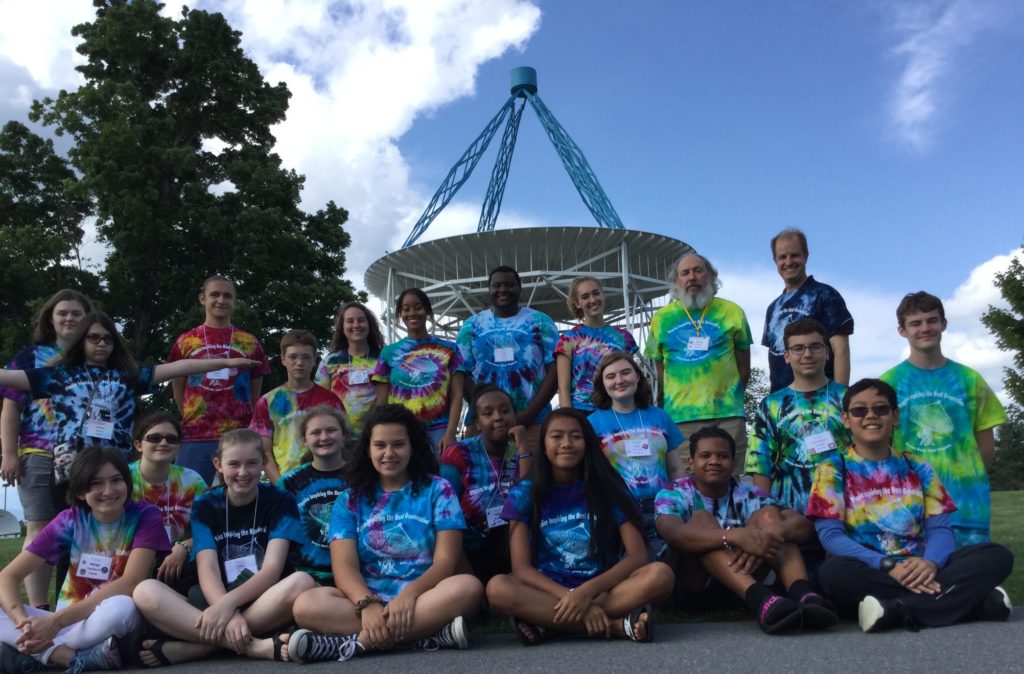 Attend one of our PING Information Sessions to learn more about PING!
PING is a STEMtastic summer camp program that actively seeks to increase the diversity of the next generation of scientists, engineers, and technologists. We are seeking current 8th-and 9th-graders (rising 9th- and 10th-graders), who are interested in science, engineering, math, and a fun and challenging virtual camp experience. We are especially interested in recruiting youth from under-represented groups in STEM majors and careers.
Green Bank Observatory is home to the National Science Foundation's world famous Green Bank Telescope. Students will be immersed in the research activities of this national research center. Students will work in small teams supported by an undergraduate student mentor and an Observatory staff scientist (astronomer, physicist, engineer, etc.) to conduct research by observing the universe with a robotic 20-meter diameter radio telescope. Supplemental educational activities, including bench experiences building electronic circuits, and coding activities complement the primary research theme. In addition, there is plenty of non-science fun to be had! Whole group seminars can include games, hiking, making, dancing– who knows?! Teachers, Observatory staff, and STEM undergraduate mentors lead these talent-share seminars and teach students about new hobbies and influence an environment where hard work and fun are balanced.
Space is limited! Please submit all of your application materials by our deadline!
Application Information:
Interested 8th and 9th grade students must submit an online application AND all required camp forms by Friday, April 30th, 2021. 22 spots available!
Link to 2021 Application Form
Link to required camp forms (must accompany application)
General Program Information:
Approximately 22 current 8th and 9th graders (rising 9th- and 10th-graders) will be selected to participate in the 9 day long summer program.
All project supplies are provided and mailed to campers.
Some camp activities may require adult supervision at home. We will work families whose campers are selected, to schedule these activities around any conflicts.
The program is fully funded, so there is no cost to campers.
Students will work with undergraduate students selected for the program who are majoring in Science/Engineering fields, have experience working with youth, and who have passed a background check.
Guardians who have questions about the PING Camp program, can contact Sophie Saint Georges, Camp Coordinator, at sdesaint@nrao.edu